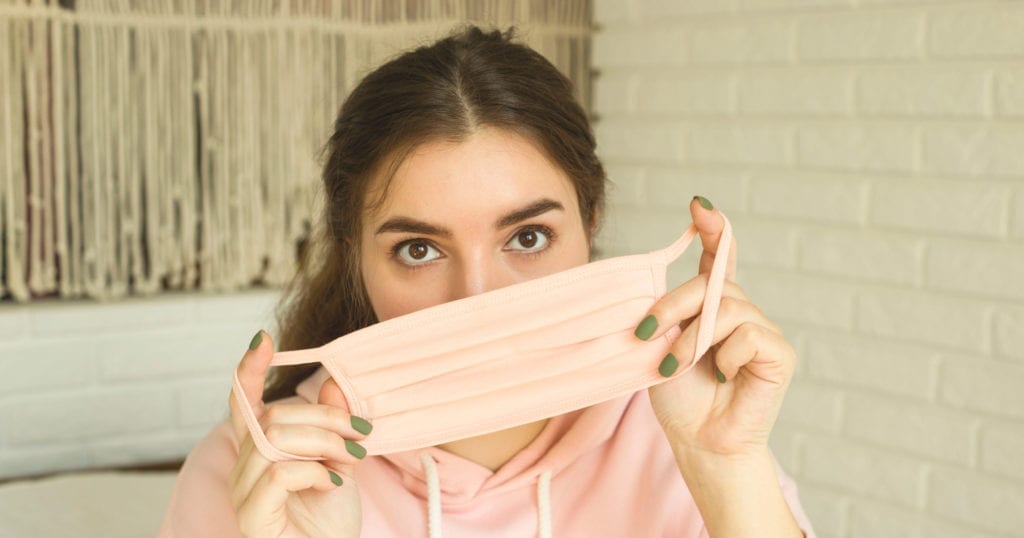 With the outbreak of Coronavirus, you may be seeing more people wearing face masks. They are a good idea too, as, alongside washing your hands regularly and only leaving home when necessary, face masks can help prevent airborne virus particles from entering your nose and mouth. They can also help capture your own coughs and sneezes so you can prevent others from getting sick. We are specialists in bras for teenagers so we know a little bit about fabrics and sewing so we thought it would help 😉 
Masks can be really good for society, but they are pretty boring to look at.
But, you can make one yourself – then you can make it look however you want to!
Maybe that's with a funky pattern, fab fabric or a cat-face!
If you want to get your fun and funky style across, read on for how to make your own on-trend face mask.
Here's how to do it:
Firstly, grab the material you want to use. This can be from an old t-shirt, pillowcase or maybe you have some fabric leftover from a craft project.
The material needs to be breathable, so an old cotton pillowcase or t-shirt is best.
Remember to ask permission of what material you can use before you begin cutting it up!
A No-Sew Mask
What You Need:
Two hairbands
30cm x 30cm square of fabric
Method:
Lay out the fabric with the material you want to show face down.
Measure out 10cm intervals from the bottom to the top.
Fold down the top of the fabric along the upper 10cm fold.
Fold up to bottom half of the fabric along the lower 10cm fold.
You should now have three layers of material that is 30cm wide and 10cm tall.
Place the hairbands around the fabric where they would best fit around your ears
Then fold in the edges of the fabric where your hairbands are. If the edges overlap, try tucking the material inside each other.
Place straight over your face, and it will hold in place.
A Sew Mask
With an adult's guidance, you can also sew your own mask.
What You Need:
Two hairbands cut, so they are two long pieces of elastic
Two lots of 15x23cm fabric of your choice (or one lining fabric, one funky fabric)
Method:
Lay out the fabric with the best side facing up.
On the width (shorter side) mark out 2cm from the top and the bottom on both sides. This is where your elastic will go.
Stretch your elastic between the top and the bottom marking on one side and stitch the elastic in place.
Do the same for the other side – you now have straps for your ears
Then, place the second layer of fabric on top of the outside layer and tuck the elastic in
Sew around the three of the edges (two long sides and one short side).
Then turn out the material using the side you haven't sewn, so it is neat and tidy.
You can use a pencil to get all of the corners out.
You can then iron in three pleats along the length of the mask, so it fits better.
And it is ready to wear!
Stamp Your Personality On Your Mask!
As well as using a fun fabric print for your mask, you can also style your face mask in a variety of ways;
Use fabric pens to draw a creative design or artwork
You could sew or glue on some ribbon, buttons or lace
Add an iron-on transfer
Try tie-dye or fabric paint
Use the colours of your favourite team or club you are involved in.
Let's get creative and show off your style while staying safe too. You can even create a mask for every member of your family, so everyone has their own fun and personalised mask all thanks to your amazing creative skills!
Happy Crafting!
P.S. We'd love to see some of your homemade mask designs, tag us on Instagram @sugaplum_shop so we can see how amazingly creative you are! And remember: if you are looking for a teenage bra online, there is no better place than SugaPlum. Follow us! https://www.instagram.com/sugaplumuk/